Learn all about rebar, including rebar sizes in inches and mm, grades of reinforcing steel, and different types of reinforcing bars. Discover the ASTM standards, identification marks, and essential information to help you understand the characteristics and applications of rebar. Expand your knowledge on rebar size, grade, shape, and more.
Table of Contents
Rebar Sizes–Reinforcement Bar Sizes and Areas
We present the ASTM rebar size chart, including the Bar No., Diameter, Area, and Nominal Weight, in both US customary units and the SI unit system. This information is conveniently displayed in a table format for easy reference. Additionally, we provide an image that visually represents the various rebar sizes, enhancing your understanding of their relative dimensions.
Rebar sizes in mm and Rebar sizes in inches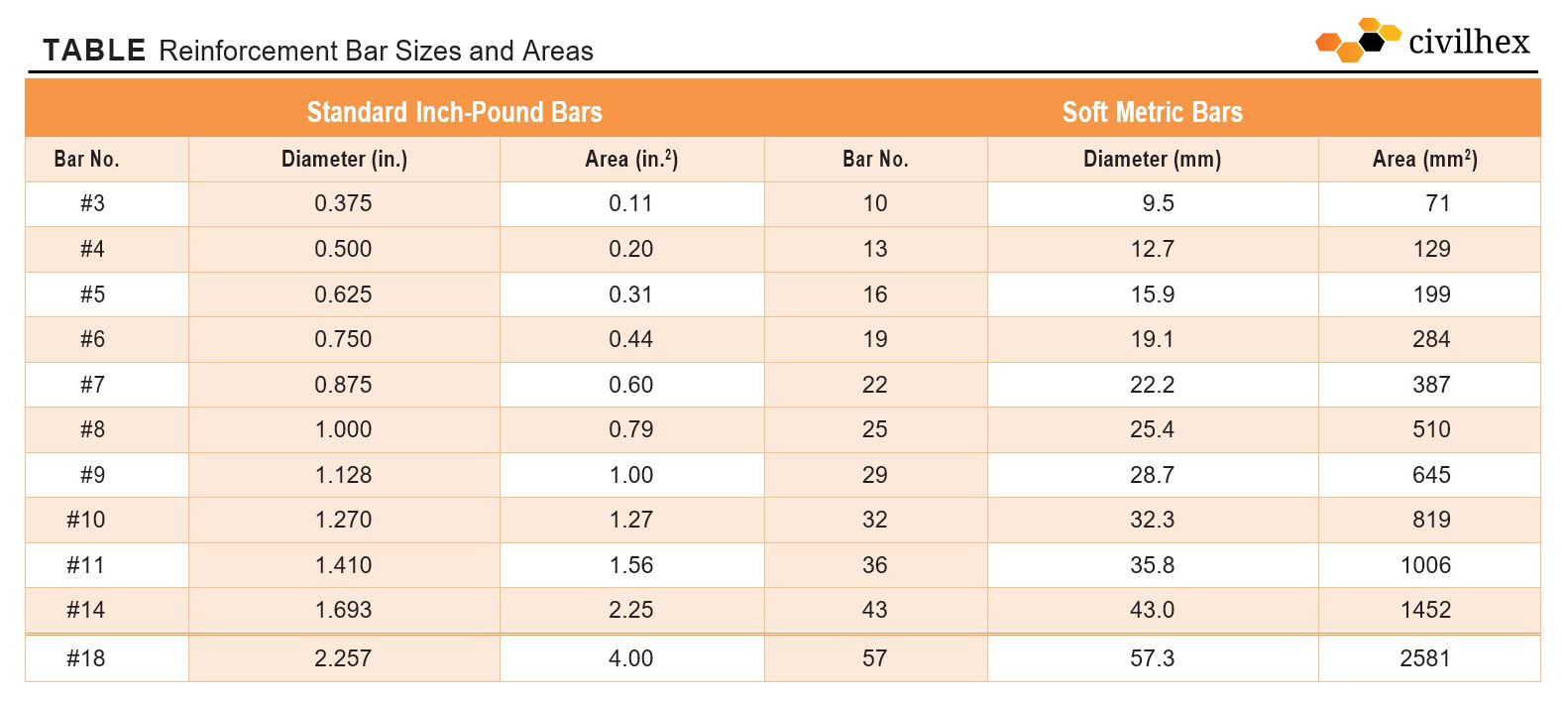 Rebar sizes table in inches and mm
Bar No.
Diameter (in.)
Area (in.2)
Nominal Weight
(lb/ft)
Bar No. (SI)
Diameter (mm)
Area (mm2)
Nominal mass,
(kg/m)
#3
0.375
0.11
0.376
10
9.5
71
0.560
#4
0.500
0.20
0.668
13
12.7
129
0.994
#5
0.625
0.31
1.043
16
15.9
199
1.552
#6
0.750
0.44
1.502
19
19.1
284
2.235
#7
0.875
0.60
2.044
22
22.2
387
3.042
#8
1.000
0.79
2.670
25
25.4
510
3.973
#9
1.128
1.00
3.400
29
28.7
645
5.060
#10
1.270
1.27
4.303
32
32.3
819
6.404
#11
1.410
1.56
5.313
36
35.8
1006
7.907
#14
1.693
2.25
7.650
43
43.0
1452
11.38
#18
2.257
4.00
13.600
57
57.3
2581
20.24
Rebar sizes table in inches and mm
Grades of Reinforcing Steel
There are several types of reinforcing bar designs by ASTM, which are listed below with a graphical view. These steel bars are available in different grades, starting from Grade 50, Grade 60, Grade 75, and so on, where Grade 50 means that the steel bar has a specified yield point of 50,000 psi, Grade 60 means its specified yield point of 60,000 psi and Grade 75 means 75,000 psi and so on.
ASTM A615: Deformed and plain steel bars. These bars are the most widely used reinforcing bar in the United States and all over the world. This bar is marked with the letter "S" (for the type of steel), and it has four minimum yield strength levels which are: 40,000 psi (280 MPa); 60,000 psi (420 MPa); 75,000 psi (520 MPa); 80,000 psi (550 MPa).
ASTM A706: Low-alloy deformed and plain bars. These bars are commonly used where required to control chemical composition or tension properties for welding purposes. This bar is marked with the letter "W" (for the type of steel). They are available in two categories which are 60,000 psi (420 MPa) and 80,000 psi (550 MPa) and it is designated as Grade 60 (420) and Grade 80 (550), respectively.
ASTM A996: Deformed rail steel or axle steel bars. These bars are marked with the letter "R" (for the type of steel).
When deformed bars are produced to meet both the specifications of A615 and A706 then they must be marked with both the letters "S" and "W".
There is an important thing to note that almost all reinforcing bars conform to the A615 specification. A large proportion of the materials used to make them is not new steel but is melted reclaimed steel, such as from old car bodies.
There is only a small difference between the prices of reinforcing steel bars with 40 ksi and 60 ksi yield strengths. As a result, 60 ksi bars are the most commonly used in the reinforced concrete structure.
ACI (Section 3.5.3.2) states that for steel with fy of 60 ksi and greater, the specified yield strength must be the stress corresponding to a strain of 0.35%. For bars with fy less than 60 ksi, the yield strength shall be taken as the stress corresponding to a strain of 0.50%.
ACI (Section 9.4) has established an upper limit on yield strengths of 80 ksi permitted for design calculations for reinforced concrete design. If the ACI were to permit the use of reinforcing steel with a yield strength greater than 80 ksi, it would have to provide other design limitations, since the yield strain of 80 ksi steel is almost the same as the ultimate concrete strain in compression.
There has been gradually increasing demand for Grade 75 and Grade 80 steel through the years, particularly for use in high-rise buildings, where it is used combined with high-strength concretes. The results are more rentable floor space, smaller columns, and smaller foundation sizes for the resulting lighter buildings.
Identifying Marks on Reinforcing Bars
It is essential for people in the shop and field to be able to identify the sizes and grades of reinforcing bars. If they are not able to do this, lower-grade and smaller bars other than those intended by the designer may be used. To prevent that kind of mistake, deformed bars have rolled-in identification marks on their surfaces.
Why used identification marks on reinforcing bars?
Identifying producing company with a letter.
Given next the bar size number (3 to 18).
For identifying the types of steel using another latter ("S" for billet, "R" in addition to a sign of rail for rail steel, "A" for axle, and "W" for low alloy).
Finally, the grade of the bars is shown either with a continuous line or with numbers. A Grade 60 bar has either the number 60 on it or a continuous longitudinal line is added to its main ribs. A Grade 75 bar will have the number 75 on it or continuous two lines in addition to the main ribs.
Learn more about Rebar Size, Grade, Shape, and more.
Learn more about Reinforced Concrete and its advantages and disadvantages